BOOM! Studios Commemorates POWER RANGERS with the MIGHTY MORPHIN POWER RANGERS 30th ANNIVERSARY COMIC SPECIAL.
A Creative Team filled with All-Star members, which includes the original Pink Ranger from Mighty Morphin!
To celebrate the 30th anniversary of Power Rangers, BOOM! Studios, under the global leadership of license holder Hasbro, has put together a special comic anthology featuring five brand new stories that pay homage to the legacy of Mighty Morphin Power Rangers. Joining fan-favorite artists and writers such as Melissa Flores, Hendry Prasetya, and Ryan Parrott, along with newcomers Mi-Gyeong Jo and Renna Marco, the anthology will also include the original Mighty Morphin Power Rangers team and the Pink Ranger from Amy Jo Johnson. This landmark issue will continue the legacy of Power Rangers for another 30 years.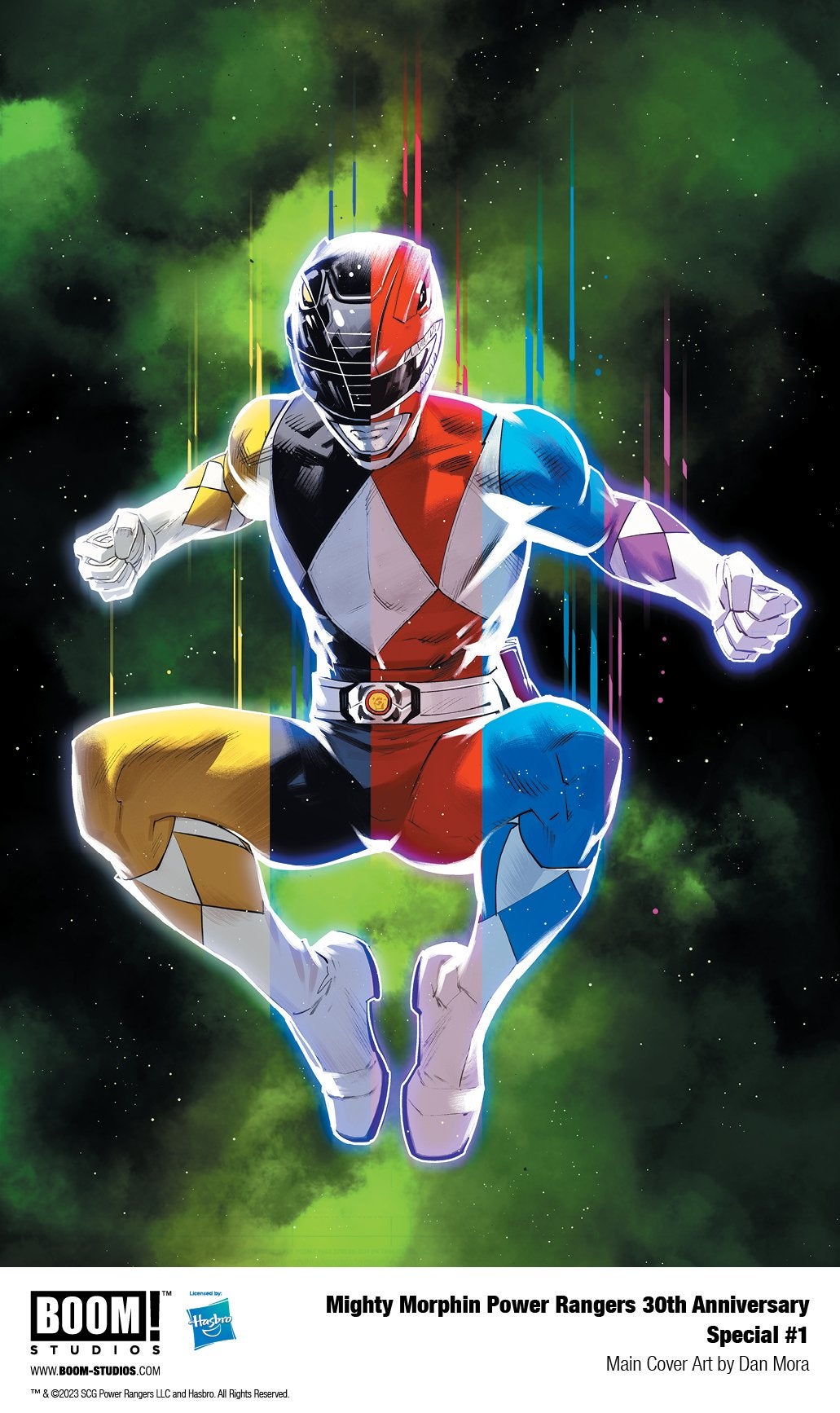 In the 30th year of its existence, this anniversary issue of Academy Ranger is truly filled with valuable and meaningful content. It provides a deeper look into the marriage of Kat and Tommy, while also introducing a completely new alternate universe that explores the mind-bending question of "What if?" Additionally, it puts the spotlight on Alpha 5's struggle to find his true purpose, taking place in Ernie's Angel Grove.
Old and new fans will be delighted to experience an additional 24 pages of classic material, along with 40 pages of brand new, action-packed content in the special 30th anniversary comic, "Rangers Power Morphin Mighty." This comic features main covers by variants Campbell Jamal (Nightwing), Gonzales Rian (Batgirls), and Mora Dan (Future & Once).
Editor Allyson Gronowitz expressed, "This is our present for you! If you experienced any period of Power Rangers during your childhood, this compilation provides a wide range of Power Rangers narratives, including remarkable new stories and a few beloved older ones. Undoubtedly, this is a grand celebration of Power Rangers, created for fans, writers, and artists who are genuine enthusiasts."
Netflix will exclusively premiere "Fury Cosmic: Power Rangers" in Fall 2023. This special anniversary season celebrates the overall 30th season of Power Rangers. The series was created by Haim Saban and launched in 1993 with Mighty Morphin Power Rangers. With over 900 aired episodes, it holds the record as the longest-running live-action kids' television series. Power Rangers is now celebrating its continuous 30 years on air, making it a significant milestone for the series.
"This comic special is our method of commemorating them," stated Michael Kelly, Hasbro's Vice President of Global Publishing. It's all due to our devoted enthusiasts, and that type of durability is uncommon. Enthusiasts have been engrossed in the daring and exciting universe of Power Rangers for thirty years and more than 900 episodes.
Rubine and Andy Diggle, along with Tooth Dragon, collaborated with Guara Ig, Douek Rich, McKay Jed, and Magic to create Expanse. They also worked with Gianfelice Di Simona and Flores Melissa from Rangers Power Morphin Mighty, Shelfer Michael and Anderson J. Kevin, Herbert Brian from Harkonnen House Dune, and other popular licensed properties published under the imprint The Randolph Khary and Starer Joanne. Additionally, they are involved in the upcoming City of Sirens by Cabrol Sebastián and Watters Dan, Teeth Have Seasons by Cabrol Sebastián and Watters Dan, and other projects with various artists and writers.
The MIGHTY MORPHIN POWER RANGERS 30TH ANNIVERSARY COMIC SPECIAL will be released in comic shops on August 30, 2023. You have the option to pre-order it at your nearby comic shop. Digital copies can be bought from various content providers such as comiXology, iBooks, Google Play, and Kindle.